Slate had an interesting article discussing how and why the uninsured rate has gone up after Trump's sabotage of ObamaCare.  But there's an odd political caveat: At the moment, the uninsured rate only seems to be rising for Republicans.
The share of working-age adults without health insurance has increased for the second year in a row, according to a new report by the Commonwealth Fund. In the group's latest annual tracking poll, 15.5 percent of Americans between 19 and 64 said they lacked coverage, up from 14 percent last year and 12.7 percent during President Obama's final lap in office, when the uninsured numbers hit a historic low.
The Commonwealth Fund isn't the only organization to find a drop in health coverage. Gallup's last tracking poll found that the uninsured rate had risen 1.7 percentage points since the end of 2016. To some extent, that's not surprising. The White House's attempts to undermine Obamacare have driven up the sticker price of health plans sold on the individual market, which has surely led some people to drop their coverage. What's somewhat more puzzling is that both Gallup and Commonwealth find that the biggest drops in coverage have occurred among lower-income households, who typically qualify for subsidies under the current health law. Commonwealth found that the entire decrease in coverage last year occurred among households making less than 250 percent of the poverty line.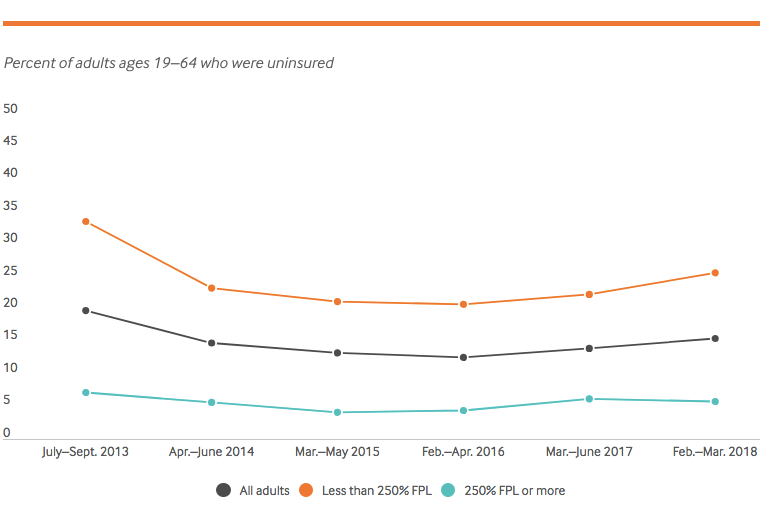 That's a bit odd because, for the most part, lower-income families should not have seen the cost of their insurance go up much, if at all, since the Affordable Care Act caps their premiums at a percentage of their income. In fact, the cost of insurance ended up dropping for many subsidized insurance customers this year, because of how states reacted after Donald Trump cut off certain payments to insurers. And while it's true that Republicans repealed the individual mandate as part of their tax law, that change doesn't take effect until 2019. At the moment, Americans are still required to buy coverage as before.
 One of the most puzzling findings in the Commonwealth Fund report is that, last year, the uninsured rate only increased among Republicans. That's surprising, since even in deep red states that didn't expand Medicaid, many low-income minority communities where people are at risk of falling into Obamacare's coverage gap tend to vote Democrat. And yet, Commonwealth found no statistically significant change in the uninsured rate among Democrats or independents; among Republicans it rose 4 percentage points.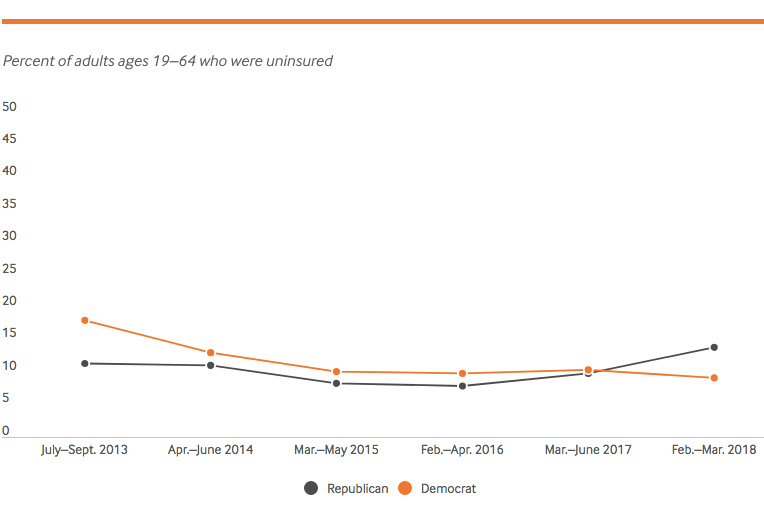 Latest posts by Joe Pioletti
(see all)